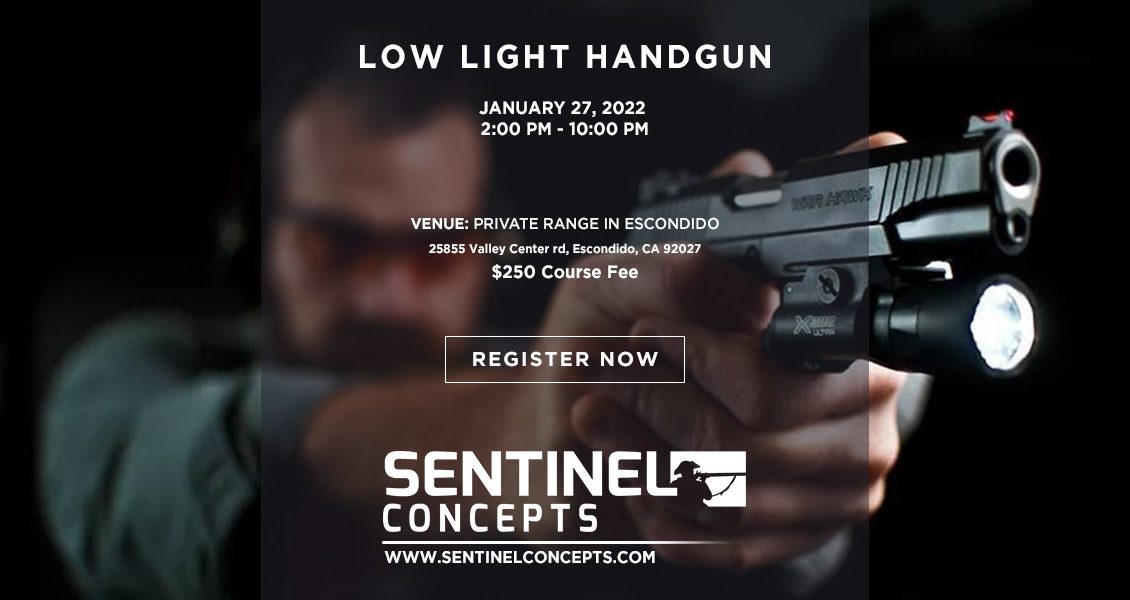 This course is geared to all shooters who have an understanding of weapon manipulation and safety. Students will be able to focus on these critical low light skills and will receive ample amounts of practical application in a low light environment.
THIS CLASS WILL THOROUGHLY COVER
Safety brief & medical plan
Proper gear selection and placement
Stance
Light placement and activation
Accuracy drills
Positional shooting
Loading techniques
Malfunctions
Accuracy and timed drills performance shooting
Use of cover (range dependent)
Movement
Multiple target tracking
Movement drills
and more…
REQUIRED EQUIPMENT
A functional and practical handgun chambered in any centerfire caliber
Ammunition: 400 rounds minimum
Quality holster and belt
Magazine pouch and or pockets are suitable
3  magazines minimum (students with single stack pistols should have twice that.)
No soft sided holsters allowed
Headlamp and handheld light
2 chem lights
PLEASE ARRIVE TO CLASS WITH MAGAZINES ALREADY LOADED.
IFAK and/or tourniquet is REQUIRED
Black sharpie marker
Individual first aid kit and tourniquet
REGISTRATION POLICIES & TERMS
STRICT NO VIDEO POLICY! YOU WILL BE ASKED TO LEAVE THE COURSE!
Refunds will be issued if Sentinel Concepts cancels the course – No Exceptions.
If you can not attend the class you registered for due to work, family, or medical reasons we will make all attempts to get you into a class within one calendar year of the original class date.
Range fees due at time of class, range costs are typically $25 to $50 per day based on host. Please be prepared to pay these fees day of.