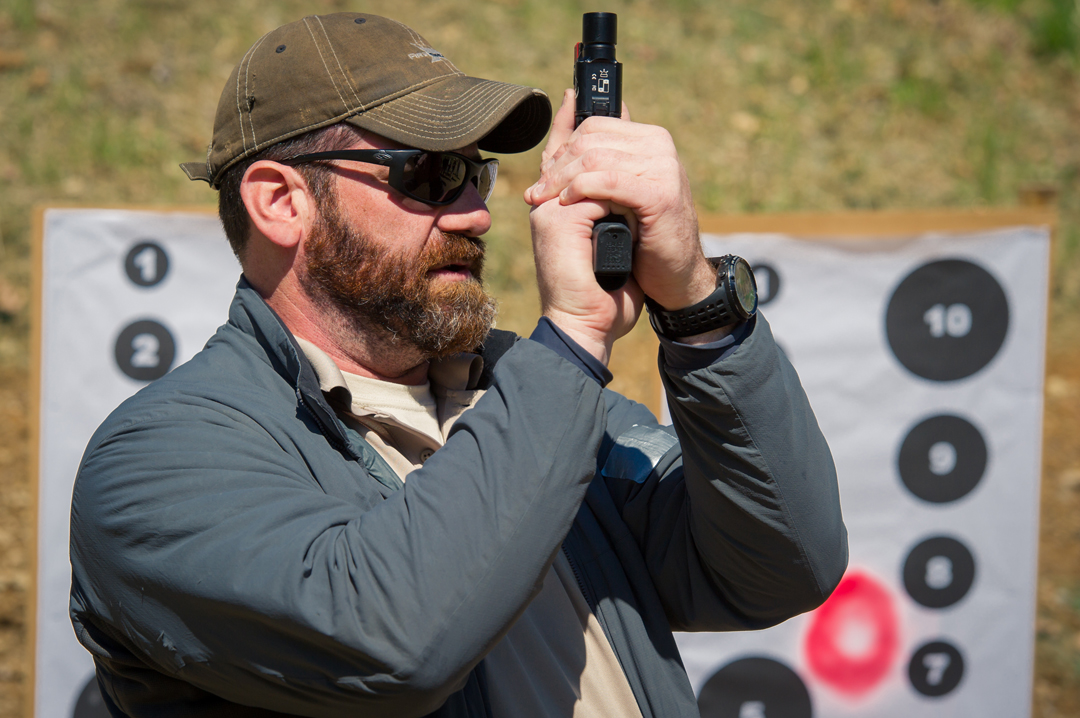 As Originally Published in Breach Bang Clear
May 20, 2014, 11:45 am
Article by Mad Duo Nate, Photo by Natalie Cake
(Note: Photography by Natalie Cake.)
By the time I finished the first drill of the day I knew that I was in trouble.
Day one of Sentinel Concepts "Critical Handgun Employment" began with Steve "YETI" Fisher lining the class up at the 25 yd line. Shooting for a 6" bull's-eye, we fired 10 rounds slow fire with all the time in the world. Walking down range, I was surprised to discover only a few near misses, and absolutely zero hits in the black.  I felt my heart sink, and that little voice in the back of my head say "WTF dude?"
No, seriously, WTF?
Before shooting this first drill, the class had gathered around Steve for the obligatory meet and greet as well as the necessary safety and medical briefs. The students were a diverse mix of shooters, from long time competitors to fairly novice new gun owners. Their selection of guns and gear were equally diverse, with the usual assortment of Glocks and M&Ps along with some Berettas and smaller carry guns.  The crisp spring air of West Virginia still lingered as we started the day, with most students wearing jackets until the sun warmed the air and many doffed their layers.  We reviewed different forms of carriage, and proper set up of our rigs before stepping out onto the firing line.
The class was being hosted by the Tango Down range a short distance west of Martinsburg WV. This was not the first time I had shot at this range, but soon proved to be one of the more challenging courses I've taken.  With the cost and availability of ammunition still spotty, I decided to go cheap and shoot 9mm over my usual preference of .45 acp. The problem with this is I didn't have a suitable 9mm to shoot for the course, so I borrowed my mom's bone-stock Glock 19.
True story, I borrowed my mom's Glock
Having shot somewhere around 30,000 rounds out of various Glocks over the last 10 years, I wasn't worried about how I was going to shoot.  Eyeballing my initial results from the 10 round, 25 yd string of fire- that rapidly changed.