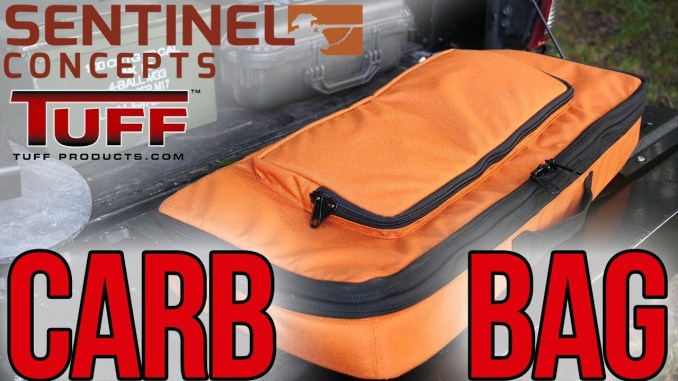 If you are looking for a rifle bag that doesn't attract too much attention, the Sentinel Concepts CARB Rifle Bag by Tuff Products might be just the thing you are looking for. I used the bag pretty heavily on the recent Brownell's Convoy Across America and never was called out for having a rifle bag.
Steve Fisher of Sentinel Concepts partnered with Tuff Products to design the ultimate low profile, covert rifle bag on the market. I would have to say that they absolutely succeeded in their mission. The CARB rifle bag looks far more like a keyboard case or a pizza bag for a strangely shaped pizza than a rifle bag.
The bag has some great features like an exterior pocket that is lined with loop material and comes with four hook backed elastic loops that hold mags in place. The inside of the bag is also lined with loop material and has several one wrap lanyards and corresponding anchors that the one wrap passes through.
There are also some stowable shoulder straps should you have the need to walk any appreciable distance with the bag and has an expansion zipper so that you can pack up to two rifles broken down into the bag if you aren't using a LAW folder.
I was able to stuff two 30-round rifle mags, 2 19-round Glock mags, a Glock 19 in a holster, and a 14.5″ AR-15 with a 20-round mag and an Aimpoint Comp M4s into my CARB rifle bag without issue.
The bag is available in several colors on the Tuff Products website and carries an MSRP of $149.99.