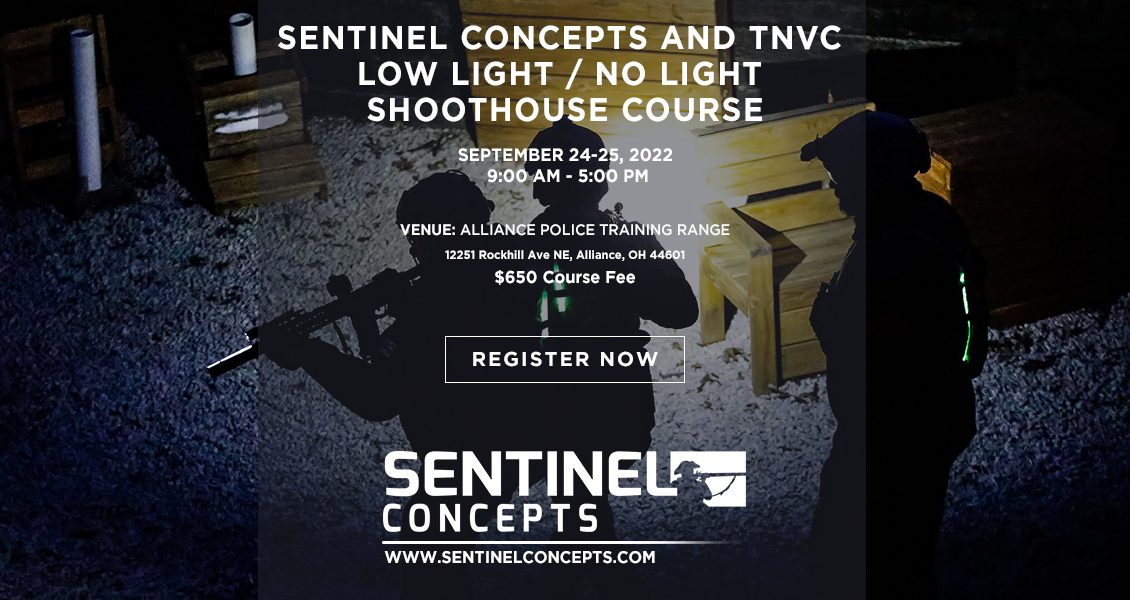 This two-night UTM force on target shoot house course has a heavy emphasis on proven techniques and is conducted in a low light and no light environment. Co-taught with the cadre from TNVC, this class will help students work inside structures with both white light and NVGs. This is not a shooting course but an intensive decision making and problem-solving course.
Prerequisites
This class is open to students who've completed both Sentinel Concepts' shoothouse class (or similar) and TNVC's Nightfighter 101 class (or similar).
In accordance with ITAR Regulations and TNVC Policy, ONLY U.S. Citizens will be accepted to participate in TNVC courses. NO EXCEPTIONS. Proof of citizenship is required.
If you don't have NVGs and would like to attend, TNVC has a limited amount of rental gear available.  Helmets, mounts, goggles (both monocular and binocular) and lasers are available for rent.  Please email training@tnvc.com if you are interested in renting gear for this class.
If you intend to rent gear, please contact TNVC about availability prior to signing up for the class.
There is a $25 per day range fee for students for the use of the Alliance Police Training Facility.
REQUIRED EQUIPMENT
Ammunition: UTM or similar only. UTM bolts provided, ammunition available for sale at the class.
IFAK and/or Tourniquet is REQUIRED
Hearing Protection (if desired—UTM is not that loud)
Wrap around style eye protection
Cleaning kit and tools that are compatible with the weapon system(s)
Outdoor appropriate clothing for changing weather conditions
Snacks/Food/Water
Notebook and pen
A functional and practical carbine or battle rifle chambered in 5.56×45; LAW folders are not compatible with the UTM bolt, and piston uppers have mixed results. For the best experience, gas impingement uppers work best.
3 magazines minimum
Rifle Sling
Magazine pouches (or pockets)
Sturdy belt (or duty gear)
Weapon mounted/handheld light
Glowsticks or PIDs
Helmet (can rent from TNVC)
NVGs with mount (can rent from TNVC)
Laser (IR, visible, illuminator preferred) (can rent from TNVC)
Sufficient batteries for all your equipment
SCHEDULE
TD1 = 3pm – 12:00am
TD2 = 2pm – 12:00am
In advance of the class you must complete the WAIVER either electronically or print and submit at check-in on day of class.
COURSE ENROLLMENT POLICY
Sentinel Concepts has a strict NO VIDEO policy. Questions? Ask Steve directly.
Refunds issued for cancelled classes ONLY; no exceptions.
Courses close to enrollment 20 days prior to start date.
Should the class still be listed and you are interested in attending please email sentinelconcepts@gmail.com to confirm ticket availability and purchase.